A unique and authentic experience
At the Domaine or outside, there is no shortage of activities: massage, swimming, discovering the beauties of Provence... Life is good here!
From May 1 to September 30
Sylvie's massage - 1 hour
Sylvie's "tailor-made" massage is a clever mix of different techniques.
Indeed, Sylvie studied in Switzerland to train and open up to complementary techniques. Massages are performed with oils sometimes combined with essential oils (except for massages for pregnant women).
The base of the massage comes from the Hawaii School of Body Therapy. It consists of a series of kneading, vibration, lomi-lomi, palpating-rolling strokes where each part of the body is worked independently for a deep relaxation of tensions.
Deep body massage – it is both relaxing, energizing, and particularly relaxing for muscle tension.
Sylvie is also a graduate in NST (Neuro Structural Integration technique). This technique is proposed for chronic, recurrent or intense tensions. Indeed, NST is a therapy in its own right which allows the osteo-muscular realignment of the fascias and the subtle energies of the human body. It is without any contraindication. Sylvie also works through magnetism which brings an energetic rebalancing of body and mind.
The session begins with a verbal exchange so that Sylvie can adapt her massage to your needs and/or expectations. Sylvie's massage, the guarantee of a moment of pure happiness... Life in slow motion...
It is practiced indoors in a vaulted room or outdoors next to a stone basin.
Reservation : Contact us or via the email you will receive just before your arrival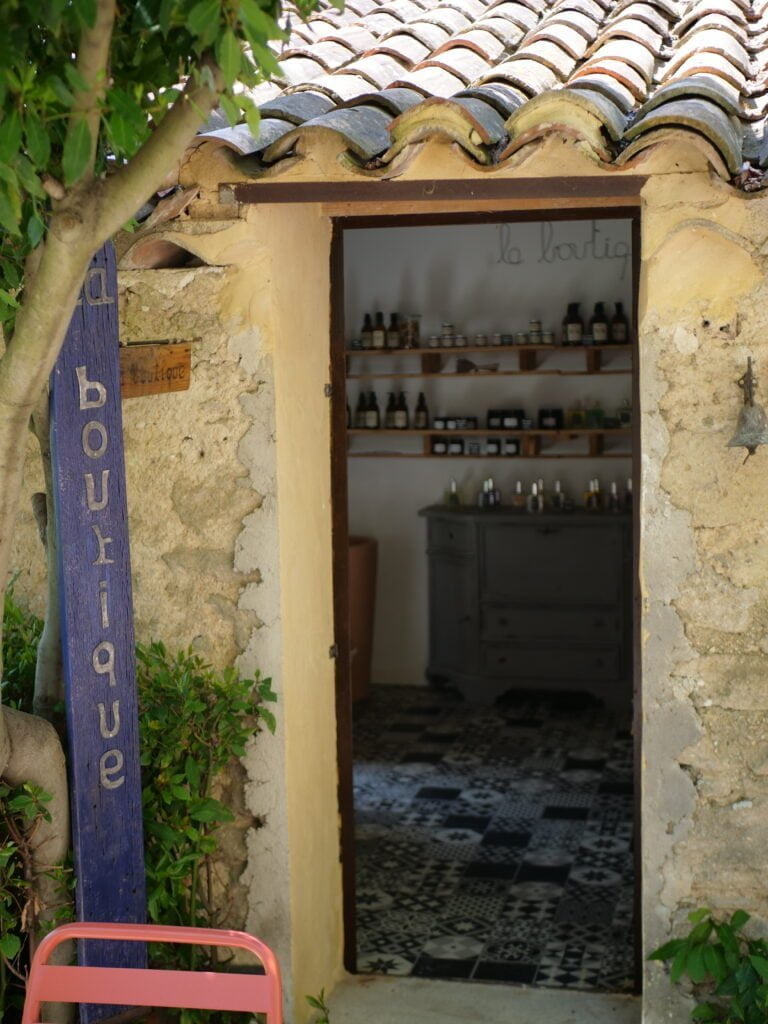 Whether you are looking for unique souvenirs or lovers of local products, our shop will awaken all your senses.
Products for sale at the Domaine:
Candles and home fragrances Seen from La Ciotat
Hand soaps and creams The Simple Things
Home fragrances Cassis waters
Estate honey
Honey of Hive Walls from the Luberon
Olive oil of the Bastide du Laval (Cadenet)
Eve's Jams - depending on the season
Terracottas of Origins Creations (creators of Cucuron)
Foutas from the Aix en Provence market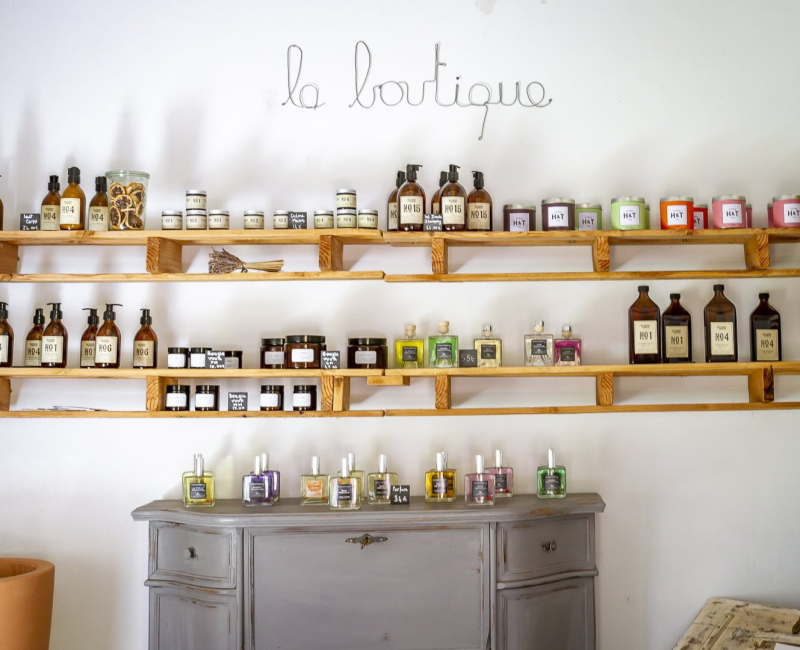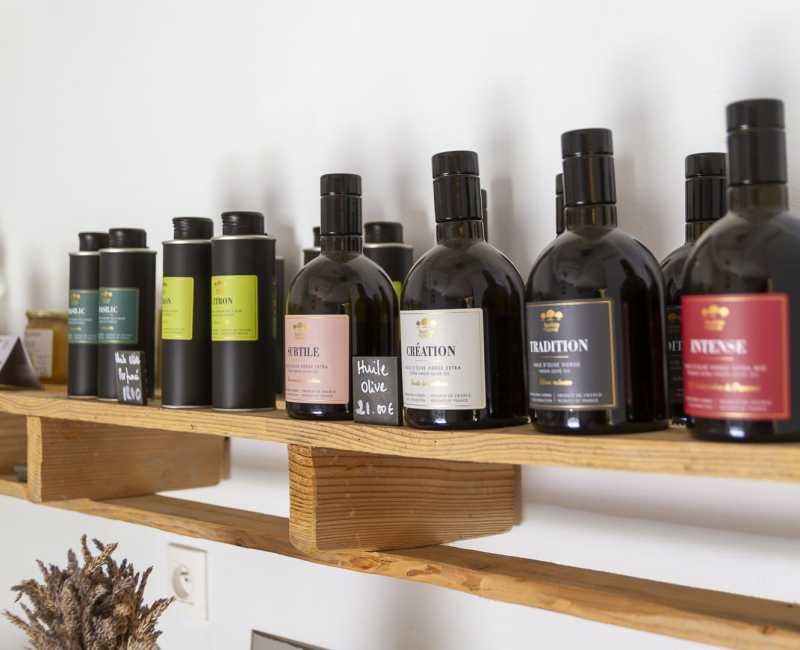 In the heart of the Lubéron, at the center of your discoveries!
Located in the heart of the South, Domaine La Parpaille allows you to radiate throughout Provence. Multiply the activities and atmospheres: countryside, seaside, peaceful village or city break.
Discover the art of living in Provence through its most emblematic villages:
Cucuron and its pond surrounded by plane trees, an oasis of freshness: 5 min.
Ansouis And Vaugines, real jewels: 10 min.
Lourmarin, with its cafes, its pretty squares, its shops, its galleries, its slow chic atmosphere: 10 min.
saignon, Lacoste, Bonnieux, perched villages that are worth the detour: 30 min.
Menerbes, a high place of wine and truffle production at the top of its rocky outcrop and overlooking the vines: 35 min.
Gordes, voted the most beautiful village in the world in 2023 by the American magazine Travel + Leisure : 45 min.
Oppede the Old, a medieval village among the most authentic and preserved in the Luberon: 45 min.
Isle-sur-la-Sorgue, the Venice of the South with its canals and antique shops: 60 min.
Sports activities in Provence
On foot, on 2 wheels, on the water or in the air, all means are good to explore the surroundings!
Want to pedal without getting too tired? We can rent for you electric bikes half day or full day.
Prefer to walk? go away hiking in the Luberon, there are several routes near the Domaine.
To gain height, fly over the landscapes of Provence by hot air balloon or in paraglider for a duo initiation flight.
And for lovers of thrills and freshness, it is possible to go canyoning in the Gorges d'Oppedette, via the Cavalon basin.
Cultural activities in Provence
Lovers of old stones or lovers of live shows, quench your thirst for culture in Provence!
THE Ansouis Castle, founded in the 10th century, is one of the oldest fortresses in Provence. It offers an exceptional panoramic view: 10 min.
The Abbey of Notre-Dame de Sénanque is a magnificent example of Cistercian art. Located in Gordes, in the middle of the lavender fields, it is also home to an active religious community: 50 min.
Get your fill of colors by visiting the Roussillon ochres and the Colorado Provençal from Rustrel : 35 min.
THE Enlightenment careers offer you an immersion in the work of the greatest artists over more than 7,000 m2, for a unique experience. As a bonus, discover the village of Les Baux-de-Provence, with its unspoiled beauty: 1h10 away.
La Roque d'Anthéron International Piano Festival. Every summer, for nearly 4 weeks, La Roque d'Anthéron becomes the meeting place for all piano lovers: 20 min.
THE Avignon Festival is today one of the most important international events of contemporary performing arts: 45 min.
The Mediterranean Sea is calling you
For a session of idleness or a sporting activity, it is difficult to stay in Provence without succumbing to the call of the sea! Along the coast of Bouches-du-Rhône and Var, dive into the 1,000 shades of blue of the Mediterranean.
AT Cassis, dive into the beautiful Blue Sea, take a boat trip in the creeks, stop at the port to enjoy an ice cream or have lunch: 60 min.
La Ciotat offers several sandy beaches, creeks and sheltered coves, as well as a Nautical Base offering various activities: 1h15 away.
AT bandol, discover the charm of the Var beaches, bathed in crystal clear waters: 1h20 away.
Sanary-sur-Mer, its market, its pretty typical fishing port and its beaches: 1h20 away.
From Hyères or Le Lavandou, embark for the golden islands: Porquerolles, Port Cros, Le Levant: at 1h45.
The emblematic towns of Provence
Aix en Provence is a real concentrate of fashion, gastronomy and art, all in a city with a human dimension. Take advantage of a rich cultural offer, between museums and festivals: Caumont Hotel, Granet Museum, Vasarely Foundation, easter festival, Aix-en-Provence Festival. Life is good at the foot of Sainte-Victoire, so dear to Cézanne: 30 min.
Discover Marseilles the cosmopolitan, its art districts, its port, the mucem, Cosquer Mediterranean, THE Longchamp Palace : 60 mins.