Window with a view of the Luberon
The sun sets over the Luberon valley, leaving a subdued glow in its wake. The door opens into a spacious bedroom of 21 m2, bathed in natural light. The dry stone walls create an atmosphere that is both bohemian and trendy…
The sun sets over the Luberon valley, leaving a subdued glow in its wake.
The door opens to a spacious room of 21 m2, bathed in natural light. The dry stone walls create an atmosphere that is both bohemian and trendy.
The configuration of the room, with its King size bed placed in the center of the room, the small steps to reach the bedroom and in the distance the Luberon that can be seen through the bay window door place you as if at the very top of a tower – sheltered from the world.
The adjoining bathroom is equipped with a Italian shower and a simple basin, all in waxed concrete, perfect for cooling off after a sunny day. The separate toilets offer additional comfort.
The olfactory signature of the room is subtle and captivating, leaving a pleasant fragrance in the air.
The Pierre de Lune room is a true refuge in the heart of nature, inviting contemplation and relaxation.
Olfactory signature of the room: Mediterranean evening
Like a sunny family memory, composed of a bewitching cocktail of citrus fruits, ylang-ylang, saffron & spices.
21m2 bedroom with king size bed and breathtaking view of the Luberon and the vineyards. Access is via an outside staircase. A true refuge in the heart of nature, Pierre de Lune is spacious and contemporary. 6m2 bathroom with walk-in shower and single sink, separate toilet.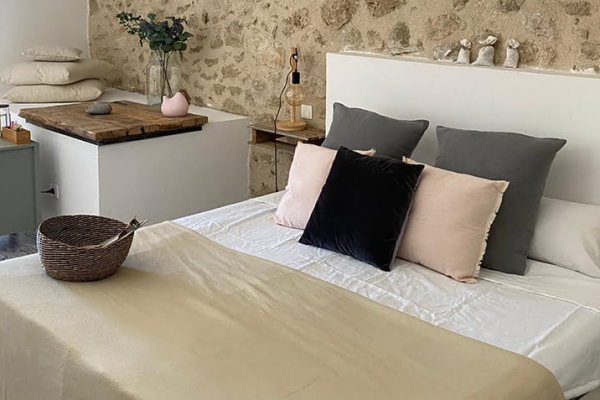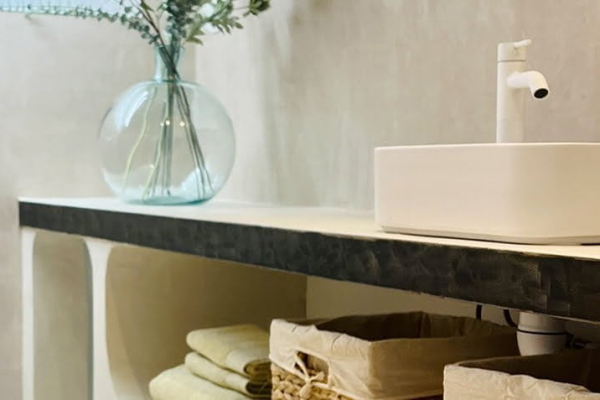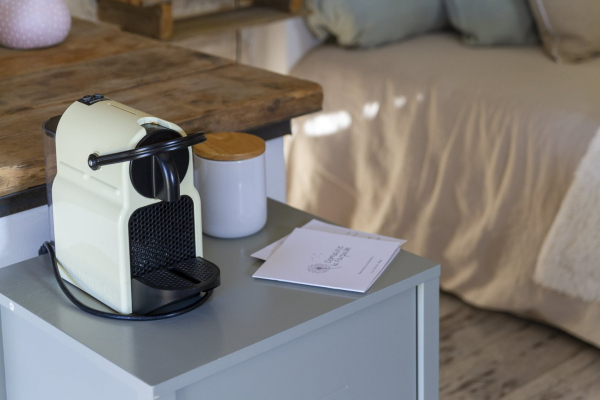 Fouta for the swimming pool
Organic teas and infusions
Reversible climate control
The details that make the difference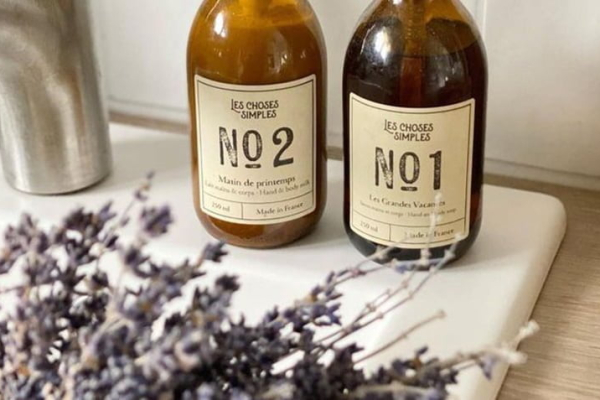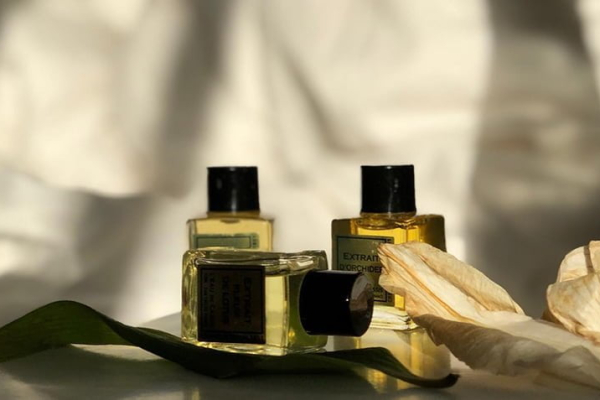 2 swimming pools and refreshment pool
Water for dreaming and lazing
Eve's Table
Savor every moment
Open spaces
Petanque court, Lounge Bar, Chill areas...
Readings and games
Rack your brains...
At the center of your discoveries
ARRIVAL: BETWEEN 4 p.m. AND 7 p.m.
If you wish to arrive after 7:00 p.m., please contact us as soon as possible to organize your arrival as well as possible.
DEPARTURE: 11:30 a.m.
Rooms must be vacated no later than 11:30 a.m.
On the day of your arrival, a deposit of 500€ will be made by bank imprint and closed one week after your departure.
A tourist tax of €0.99 per adult per day is to be expected. It will be regularized at the end of the stay
More than 30 days before the arrival date: Full refund of the total amount of the reservation.
Between 15 and 30 days before the date of arrival: Reimbursement of 50 % of the total amount of the reservation.
Less than 15 days before the arrival date: No refund. The total amount of the reservation will be due.